Tomatillos and Chilies (from Devon!)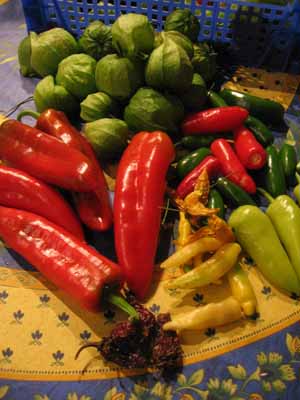 (clockwise from top) tomatillos, jalapeños, Hungarian chilies,
aji limons (fresh and dried), chipotles, anaheim
Topsham, Devon 1 December 2005 The first of December arrives here in Devon: wet, blustery, cold and miserable, as you'd expect. What a pleasant surprise, then, to find that tomatillos and chillies, grown under polytunnels in the nearby South Hams, are still flourishing. Steve from the South Devon Chili Farm emailed me a few days ago to say that the tomatillos have finally ripened (they were, apparently, planted late this season). He was happy to drop off a crate to me after he finished the Thursday Farmers Market in Exeter, and so he came around today. And now here they sit, in a little crate, wafting scents of the exotic and the far-off, and promising flavours from my childhood past.

This is the second year that the guys from South Devon have supplied me with tomatillos. They (the tomatillos) look absolutely gorgeous in their delicate, papery husks, firm and sticky. In addition to these beauts, I also take a few handfuls of jalapeños, some aji limons, some waxy hungarian chilies that Steve says are delicious simply fried in olive oil and sprinkled with sea salt, some big, meaty anaheims, some dried and smoked chipotles and some dried aji limons, my favorite all purpose dried chili to crush or crumble on just about everything.

"Look!" I say to Bella when she returns home from school. "More fresh chillies! And dried, too."

"Great, Dad," she replies, but without enthusiasm. Do I glance a roll of the eyes to her mother?

"But Bella, I thought you loved chilies," I say, trying not to sound reproachful.

"Yes-s-s-s," she answers, with thirteen-year-old exasperation, "only not in EVERYTHING, Dad."

OK OK, Bella, I get the message and will try and control myself (though it will be difficult with all these beautiful fresh and dried varieties to play with).

Right now, I'm going to slip the husks off the tomatillos and simply cook them up with the jalapeños. Allow to cool. Liquidize roughly and season with salt and lots of freshly chopped cilantro. Perhaps mix a bit of this tangy salsa verde with mashed avocado to spoon into warm corn tortillas. And I can't resist frying some of those Hungarian chilies - apparently they are like pimientos del Padròn, mainly mild except for the odd blow-your-head-off rogue! And the chipotles - oh, smell that deep, smoky, gorgeous, warm and comforting aroma! - they'll be delicious simply crumbled into some scrambled eggs with a bit of chopped chorizo, and topped with the salsa verde of course...

Marc

Post-dinner PS: Right now I'm sweating mighty heavily. I couldn't resist frying up not only the Hungarian chilies but also some of the aji limons and the jalapeños. Fried until crispy, then patted in kitchen towel and sprinkled with coarse sea salt. Nada mas. Big mistake. These chilies were just too darn hot to eat this way. The Hungarians were unpredictable, and the aji limons sort of crept up on you - you take a nibble and think, hey, that's OK, then you have a bigger munch and all of a sudden you're totally on fire, gulping water, gulping wine, still on fire. Never again. Well, not until tomorrow, at least. Actually those ajis had a wonderful flavour, bloody hot, but with a waxy, lemony character that is very attractive. The jalapeños by contrast had a more green pepper heat, far less subtle. The Hungarians, well, as I said, they were just ridiculously variable, from so mild to blow-your-head-off-totally. The tomatillos cooked down with simply jalapeños were amazing, the resulting salsa verde delicious sour and hot and green and pungent. Steve will bring me out another batch next Wednesday, and also some genuine pimientos del Padròn.